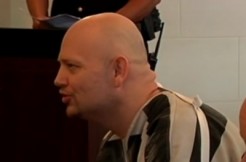 We're just going to get this out of the way: A man threw feces and urine at a judge.
See, Ricky Hand, 46, faced a sentencing hearing on Wednesday for multiple armed robberies. He'd pleaded guilty to seven out of 30 total charges. So there he was at a Clark County courtroom in Ohio, apparently contrite for the crimes, which he blamed on a drug addiction, according to WHIO.
Then he got the sentence. 40 years out of a possible 52.
"Did you just give me 40 years, sir?" Hand said in response. Apparently, that was more time than he expected. The judge confirmed, that yes, this was the sentence. And then Hand, well, uh, he, uh…he tried to throw his fluids at the judge.
The WHIO report said he pulled a bottle out of his pants, though sheriff's deputies stopped him from flinging it at the judge, but it did hit other people. Hand now faces more charges for the Wednesday incident: five counts of harassment with a bodily substance: His fluids allegedly hit his attorney, and four deputies.
The Clark County Sheriff's Office is investigating how Hand was able to sneak the bottle into the courtroom.
–
Follow Alberto Luperon on Twitter (@Alberto Luperon)
Have a tip we should know? [email protected]