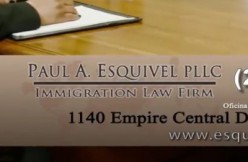 On Friday, The Texas Attorney General's Office announced that they secured a final judgement and permanent injunction against a disgraced immigration attorney, Paul Esquivel, and two colleagues, attorney Juan Carlos Penaflor, and an office manager, Olivia Martinez.
The office's press release, obtained by LawNewz.com, said that Esquivel charged customers thousands of dollars to file asylum applications even though they didn't qualify, and were in danger of deportation if they tried to apply for asylum.
"Often, these consumers had other qualifying paths to citizenship, but Esquivel ignored those avenues and submitted Asylum Applications on their behalf and, usually, without their knowledge," the statement read. "Moreover, Esquivel failed to disclose the risk of deportation when applying for asylum."
Read the full judgement and injunction, obtained by LawNewz.com, here:
Paul Esquivel Judgement and Injunction
Esquivel, Peneflor, and Martinez were all defendants in a lawsuit filed by Texas in September 2015.
"He knew that the asylum process didn't apply to them [clients], and he went ahead and did it," Teresa Farfán, a spokesperson for the attorney general's office, told The San Antonio Express-News in 2015. "Many of the customers are uneducated, many don't speak English, and he would provide them with a contract in English, and of course they didn't know what the contract was for."
At least one commercial for the Paul Esquivel Law Firm was aimed at Spanish-speakers. Penaflor can be seen in this one:
Now Esquivel can no longer practice immigration law, and must pay $750,000 in fines. Martinez, who is not a lawyer, can't own professional entities unless she gets legal authorization to practice law in the U.S. And then there's Penaflor's situation. He must 1) try to withdraw Esquivel's asylum applications on a pro bono basis, 2) refund Esquivel's former clients for fees paid since June 1, 2015, and 3) give them copies of their case files for free.
–
Follow Alberto Luperon on Twitter (@Alberto Luperon)
Have a tip we should know? [email protected]