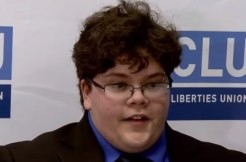 On Thursday, a federal judge with the U.S. District for the Eastern District of Virginia ruled on behalf of a student who sued his school district. The Gloucester County School Board has been ordered to let Gavin Grimm, a transgender boy, use the boys' restroom at his school.
"I am elated to hear that I'll be able to attend my senior year of high school with my full rights restored," Grimm said in a statement published by his lawyers at the American Civil Liberties Union. "After nearly two years of humiliation and intense struggle, equality has finally prevailed. Now hopefully other transgender people will not have to face this type of discrimination."
Grimm and his lawyers said the school board's policy—to keep him from using the bathroom—violated both the Title IX sex discrimination statue and his rights under the 14th Amendment.
His case made a slightly convoluted route through the legal system. In fact, he originally lost at that same district court, but the U.S. Court of Appeals for the Fourth Circuit reinstated the case, and sent it back down. As LawNewz.com has written before, the appeals court recently denied the school board's request to rehear the case en banc. That means every judge there would've had to participate, not just the typical three-person panel.
Appeals Judge Paul Niemeyer, who voiced opposition to Grimm's aims, urged for this case to reach the U.S. Supreme Court.
[h/t Reuters]
–
Follow Alberto Luperon on Twitter (@Alberto Luperon)
Have a tip we should know? [email protected]