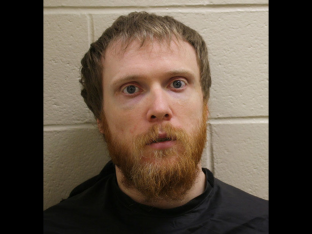 Murder suspect Denver Allen appeared in a Georgia courtroom last week for a routine hearing that quickly descended into an obscene, vulgar and truly abhorrent shouting match between the defendant and Floyd County Superior Court Judge Bryant Durham.  By the end of the hearing, Allen threatened to kill the Judge's entire family and Judge Durham had told Allen he looked "queer."
WARNING TO READERS — THIS STORY CONTAINS EXTREMELY OFFENSIVE LANGUAGE
At the beginning of the hearing, Allen requested a new public defender.  When Judge Durham denied the request, everything just seemed to fall apart.
Judge Durham tried to explain his reasoning for not allowing Allen to receive a different public defender, when Allen announced that he would just "hold himself in contempt" and then screamed "f**k you" and "go f**k yourself" to the Judge.  And then this happened:
The Court: I — I am finding — I'm finding you in contempt of court.

Mr. Allen: I don't care.

The Court: I know you don't. And I sentence you to twenty days for that. And if you say anything else, I'm going to add twenty days for everything you say.

Mr. Allen: F**k you.

The Court: Forty days.

Mr. Allen: F**k you again.

The Court: Sixty.

Mr. Allen: Go f**k yourself.

The Court: A year.

Mr. Allen: Your mama.

The Court: Ten years.

Mr. Allen: Suck my d**k.

The Court: You know something, this is going to be an interesting trial.
What followed was only worse.  Allen continued his tirade against Judge Durham, who eventually lost his cool as well.  After Allen informed the Court about the size of his manhood and that he preferred "white-white boys," Judge Durham replied, "Oh, of course.  You know, you look like a queer."
Allen then continued his obscenity-laced rant against the Judge, who at one point responded, "You're so cute.  I know all the inmates just love you to death."  The Judge later added,  "You know what, you have a constitutional right to be a dumbass."
Things continued to remain heated with Allen eventually telling the judge he would kill his entire family.
"How about this? I'll kill your whole family. When I get in this trial, I will murder your whole family. I'll cut your children up into pieces. I'll knock their brains out with a f**king hammer and feed them to you," Allen said.
The Judge replied that he did not have any kids, but Allen did not seem to understand or care.
Finally, Judge Durham had enough and dismissed Allen from the courtroom.
"I've enjoyed this. I hope you have. I know everybody else in the courtroom has enjoyed it, but you can go now, Judge Durham said.
The Atlanta Journal Constitution reports Judge Durham may be disciplined for his role in the 11 minute hearing back on June 17 by the Georgia State Judicial Ethics Agency.
As for Allen, in addition to the murder charges he already faces for allegedly beating Stephen Rudolph Nalley to death at the Floyd County jail in 2015, he now faces charges of making terrorist threats and contempt of court.
A lawyer named Keith Lee posted a copy of the full transcript on Twitter and a copy is available HERE.
THIS IS THE BEST COURTROOM TRANSCRIPT OF ALL TIME. https://t.co/Vb4C3qXg2x pic.twitter.com/ZvII3Z6JUa

— Keith Lee (@associatesmind) June 22, 2016
Have a tip we should know? [email protected]