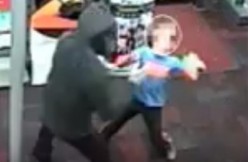 I almost spilled coffee on myself when I saw this. The Montgomery County Police Department have released surveillance footage of a small boy trying to fistfight an armed robber.
It's like this: On Friday, two suspects with handguns stormed into a GameStop in Silver Springs, Maryland, cops said.
"One suspect initially ordered three customers, including a young boy, against the wall near the counter," read a MCPD statement.
Authorities completely undersell things here. Watch the video. The relevant stuff happens within the first 12 seconds.
Look at that! Those weren't even flimsy, little-kid punches. The "young boy" was really going for it. If you're a parent, you're probably losing your mind right now.
No injuries were reported, though. The suspects stole from the register as well as what the statement calls "personal property."
Police still need to find who did this.
"The suspects are decribed [sic] as black males in their 20s, approximately 5′ 6″ tall and weighing 170 pounds," they said. "They were wearing black, hooded sweatshirts, black pants, gloves, and masks."
If you have any information on this, call robbery investigators at (240) 773-5070. Anyone wanting anonymity can try the Montgomery County Crime Solvers at 1-866-411-TIPS (8477), which may pay out an award.
–
Follow Alberto Luperon on Twitter (@Alberto Luperon)
Have a tip we should know? [email protected]