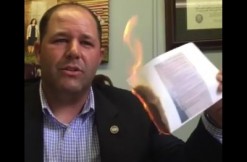 In a video posted to Facebook on Wednesday, Tennessee State Rep. Andy Holt burnt his traffic camera tickets, saying these lacked real enforcement power.
I want to be really clear, the only power that these camera companies have is their coercive words, and things that they want to intimidate you with. There is nothing here that is enforceable. There is nothing here that can affect your credit score, you driver's license points. It cannot affect your insurance rates because this is not a real citation. A real citation is given by an officer of the law. A real citation is a criminal penalty. This [the citation in his hand] is a non-moving civil violation.
Don't act like you never wanted to do something similar. Check out the full video below.
This video hasn't earned the Republican lawmaker much support from law enforcement.
"No one likes to be caught violating traffic offenses, regardless of how they are caught, but they have a legal obligation to properly address it," Knoxville Police Chief David Rausch told The Knoxville News Sentinel on Thursday. "Burning a citation or throwing it away is an emotional response that may feel good, but it does not make the violation and accountability go away."
A Public Information Officer for the Kingsport Police Department made a similar statement.
"If a person chooses not to pay, we're not going to come out and arrest you for not paying the ticket," Tom Patton told WJHL in a Thursday report. "However, it will be turned over to collections and it could, potentially, affect your credit rating."
This second comment triggered a follow up statement from Holt.
And he has a point about the traffic tickets. He and another lawmaker successfully sponsored a bill, HB2510, that makes all traffic camera tickets include a disclaimer: nonpayment of tickets won't hurt credit scores, driver's licenses, and auto insurance rates. It has been enacted since April 27.
But it's a new law, and another Tennessee lawmaker is unsure if the disclaimer can make that promise.
"It says on the disclaimer that it doesn't [one's credit score] and on its face it probably doesn't, but if a city chooses to turn you over to collections to collect that revenue then I suspect there is an unpaid debt that would show up on your credit score," Rep. Bud Hulsey told WJHL.
–
Follow Alberto Luperon on Twitter (@Alberto Luperon)
Have a tip we should know? [email protected]