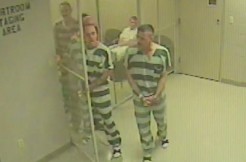 It's been a bad week. We needed a feel-good story. You probably needed it too, so here you go.
June 23. The Parker County Jail in Weatherford, Texas. One armed guard was stationed by a cell with at least eight inmates, according to WFAA. Then something happened.
"He just fell over," inmate Nick Kelton told the news outlet. "Looked like an act. Could have died right there." The guard suffered what may have been a heart attack. Inmates started yelling, and managed to break out of their cell. If this were some movie, they'd have taken the guard's keys and guard, then made an escape.
They didn't.
The inmates were yelling for help, trying to save the guard. When a WFAA reporter asked why they helped him, Kelton said, "He's a good man."
Other jail authorities arrived. "They thought we were taking over," said inmate Floyd Smith.
The guards put the inmates back in the cell, and soon noticed the unconscious guard. They started doing CPR, and paramedics successfully shocked him back to life.
Parker County Sheriff's Sgt. Ryan Speegle said it could've been a terrible situation since the guard had keys and a gun on him. But Capt. Mark Arnett thinks their intervention saved a life.
"He could have been there 15 minutes before any other staff walked in and found him," he said.
Authorities repaired and even reinforced the cell to increase security. The guard, who remains unidentified, is expected to return to work in about a week.
–
Follow Alberto Luperon on Twitter (@Alberto Luperon)
Have a tip we should know? [email protected]