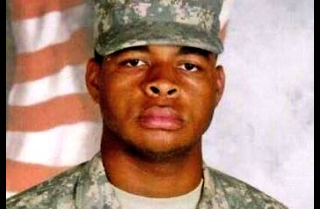 Dallas police say Micah Xavier Johnson killed 5 officers, and injured others in an ambush on Thursday during a Black Lives Matter rally. Now, a Boston Globe profile sketches out his troubled past.
The 25-year-old Johnson, who police say acted alone in Thursday's shooting, served in the U.S. Army as a reservist until recently. Johnson went to Afghanistan as a mason and carpenter in November 2013. He doesn't seem to have ever participated in combat.
There, a female soldier said he sexually harassed her, military lawyer Bradford Glendening told the Globe. He represented Johnson against the allegation when he returned stateside. According to Glendening, the woman said Johnson needed "mental help," and she got a protective order against him.
Army honchos wanted to kick him out, initiating an "other than honorable discharge."
"They didn't like him, that was very clear from talking to his commander," Glendening said. Johnson eventually bartered for a lesser charge.
Johnson was also a fan of two groups: The New Black Panther Party, and the African American Defense League. The latter was founded by Mauricelm-lei Millere. Johnson had "liked" both organizations on his Facebook page.
"Millere is known for calling for violence against police specifically, on a regular basis," Oren Segal told the Globe. He's the director of the Anti-Defamation League's Center on Extremism. "Usually after a high profile police-related shooting he takes to social media to encourage violence against police."
ADL has also accused The New Black Panther Party of antisemitism and racism.
–
Follow Alberto Luperon on Twitter (@Alberto Luperon)
Have a tip we should know? [email protected]