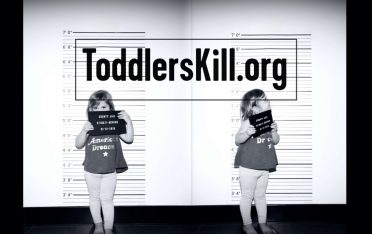 The Brady Campaign to Prevent Gun Violence commissioned a provocative new advertisement called 'Toddlers Kill' to promote gun control in the run up to election next month.
The ad begins with a series of news reports about young children getting ahold of unattended weapons and then a statistic flashes across the screen claiming Americans are shot by toddlers at least once per week.  Several more video clips are shown with children handling weapons as a voiceover suggests America has a problem on its hands.
"We need to lock them up," the narrator says.  "Not the guns. That's just un-American. The toddlers."
The ad continues with a montage of toddlers posing for mugshots and the narrator concludes by saying, "Guns don't kill people.  Toddlers kill people."
WATCH:
Brendan Kelly, a spokesman for the Brady Campaign, told NBC News the ad was designed to grab the public's attention ahead of the upcoming election.
The statistic cited in the ad about toddlers shooting one American per week does not appear to be independently confirmed.  Kelly said it was generated from the Brady Campaign's analysis of data compiled by the Washington Post and Snopes.
National Rifle Association spokeswoman Jennifer Baker called the ad "offensive" and an attempt by the Brady Campaign to "sensationalize tragedy to push a gun control agenda."  She further suggested the Brady Campaign "would be spending their resources on safety and training" if they were "truly concerned about safety."
Baker also credited the NRA's gun safety promotions for the steady decline in accidental firearms deaths over the past several years.
[image via screengrab]
Have a tip we should know? [email protected]