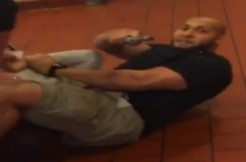 In shocking video, an NYPD cop seems to sucker punch a man trying to record an arrest. Now the cop is being investigated by Internal Affairs.
It started with a pair of dirt bikes and a Hyundai rolling through Harlem, ABC 7 reports. Two police officers pulled over the car, which had been reported stolen. But police say the bikers created a distraction, allowing the people in the car to escape.
The cops, who belong to the 32nd precinct's Anti-Crime Squad, chased one of the bikers, 21-year-old Dayshawn Bettway, into an apartment complex lobby.
In video obtained by ABC 7, one of the officers put him in a kimura lock (a jiujitsu move), and screamed at the cameraman to back off. The cop had absolutely no chill, pulling out his gun.
"Back up!" he screamed. "Back up! I'm not playing!"
Bettway was successfully arrested, but things didn't end there. In cell phone video, the same officer who screamed "Back up!" punched 19-year-old Jahnico Harvey, who had tried to record the arrest.
Harvey was arrested for "menacing," a law on the New York Penal Code. He's definitely in trouble. And so is the officer, who may be in trouble for the punch.
"The Department was made aware of the incident last night," the NYPD told LawNewz.com on Saturday. "The Internal Affairs Bureau began an immediate investigation. A police officer shown on the video has been placed on modified assignment, pending internal review."
–
Follow Alberto Luperon on Twitter (@Alberto Luperon)
Have a tip we should know? [email protected]