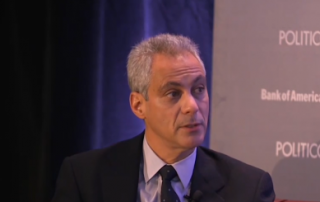 Two Chicago policemen are suing the city of Chicago, claiming that the police department retaliated against them after they cooperated with a federal investigation into corrupt officers, and now the judge wants the mayor to take the stand, the Guardian reported. The two officers had helped the FBI uncover a narcotics team that was collecting money from drug dealers in exchange for protection. U.S. District Judge Gary Feinerman said on Friday that he wants Chicago Mayor Rahm Emanuel to testify, but attorneys for the city are trying to keep that from happening.
Emanuel, who previously served as President Barack Obama's Chief of Staff, had stated back in December that there is a problem with a police "code of silence" where officers protect each other from accusations, and Judge Feinerman felt that his testimony could add value to the case. City attorneys said they'd be willing to acknowledge the code of silence if it would keep Emanuel off the witness stand. A spokesman for Emanuel said in a statement that the mayor would not have anything else to add.
Civil rights attorney Flint Taylor told the Chicago Tribune, "We've been fighting for 25 years to establish that there is a code of silence," and said it was significant that the city is ready to admit that in order to keep Emanuel from testifying. Taylor said that with Judge Feinerman insisting that Emanuel take the stand, it is likely that the city will settle before the trial is scheduled to begin on May 31.
Have a tip we should know? [email protected]