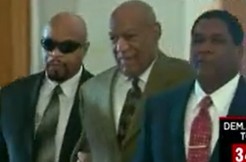 Update — Feb 2, 1:38 p.m. EST: (from Beth Karas at the hearing): Former District Attorney Bruce Castor was on the stand all morning giving details about his decision not to prosecute Bill Cosby for alleged sexual assault in 2004. Among the reasons he gave today were: that the accuser, Andrea Constand, did not report the incident for one year, there was no forensic evidence of drugs or Cosby's DNA, there were inconsistencies in the statements she made over time to law enforcement, she continued to have contact with Cosby, sometimes in person, between the incident and reporting it to police, and she contacted a civil attorney before reporting the incident to the police.
Castor said that as Montgomery County District Attorney, it was his decision not to prosecute Cosby; that it was not an "agreement." He did not believe the case could be proven. Cosby's attorney, Walter Phillips, was aware that, with the decision not to prosecute, Cosby could no longer assert his 5th Amendment right not to self-incriminate. At one point, Castor said that "Cosby had to be nuts to say those things" if he thought he could be prosecuted.
Update — Feb. 2, 12:24 EST: Editor-at-Large Beth Karas, who is at the hearing updated us. Bruce Castor, the former District Attorney is on the stand. Here is what Beth reports: "When asked about steps to formalize (the non-prosecution agreement) in writing, Castor said he and Phillips (Cosby's attorney) didn't think it was a hard  concept to understand. Once the possibility of a criminal prosecution is gone, the possibility of taking the 5th is too." Former DA Castor also said on the stand that he directed his First Dep to contact Constand's attorneys and tell them there would be no prosecution. There was no official document of this agreement, but Castor testified there was an understanding.
Update — Feb. 2, 11:08 a.m. EST: Editor-at-Large Beth Karas, who is at the hearing, reports, "Court on quick recess. Castor is on the stand. He's going through decision not to prosecute. Reasons given so far: Constand didn't report it for one year, delay meant no forensics, she consulted a civil attorney in Pennsylvania before reporting incident to Canadian police. Going back in."
Bill Cosby's legal team is trying get charges dropped Tuesday. The 78-year-old comedian faces charges for committing aggravated indecent assault against Andrea Constand. This could land him a 10-year prison sentence.
Today could be a big day for this case. The charges largely stem from a 2005 civil deposition in which Cosby seemed to corroborate Constand's allegations. But the defense team says he'd made a non-prosecution agreement with Bill Castor, the then-District Attorney of Montgomery County in Pennsylvania. If true, that could bind Castor's successor (and political rival) Kevin Steele from even bringing the case forward.
Expect Castor to testify Tuesday. A lot rests on this. If the judge agrees that the non-prosecution agreement happened, that civil deposition possibly can't be used in court. Charges could even be dismissed, according to analysis by LawNewz Editor-at-Large Beth Karas. And even if this still goes to trial, the absence of the deposition might cripple the state's case.
Over 50 women have publicly accused Cosby of sexual assault, but this is the only allegation that's resulted in criminal charges. The statute of limitations ran out in many others.
[image via screengrab]
–
>> Follow Alberto Luperon on Twitter (@Alberto Luperon)
Have a tip we should know? [email protected]