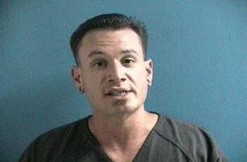 A Florida man overwhelmed everyone with the sight of his penis, but cops didn't approve of this for some reason. Kenneth Snider, 30, was arrested Jan. 18 for whipping it out at a hospital, according to police.
Authorities answered a call at about 3 a.m., deep in the middle of the night. My oh my, it was a suspicious activity call in a neighborhood. While investigating, an officer reportedly heard a male penetrating the neighborhood with sounds, yelling "Charlene." (Yes, just like the character on The Colbert Report.)
The man, Snider, said he was just headed to a friend's home, but looked intoxicated. The cop alleges he took him into custody when he wouldn't calm down. Too aroused.
Let's just get to the point: Snider was brought to a hospital because of the alleged intoxication and some facial wounds. Snider was riled up, so much so he reportedly yelled about the size of his penis.
Yep, that's when he allegedly dropped his pants.
Snider was arrested for disorderly conduct, resisting without violence, and exposure of sexual organs. No word on who the hell Charlene was.
[h/t Off The Beat]
–
>> Follow Alberto Luperon on Twitter (@Alberto Luperon)
Have a tip we should know? [email protected]