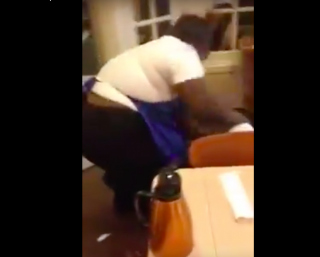 Late Saturday night, two sisters, Janika Nellums and Sharika Strickland, are accused of starting a fight at a local IHOP in Memphis, Tennessee.  The two sisters are also accused of creating hundreds of dollars of damage during their fight.  Nellums is an employee of the IHOP and claims that she had been bullied at work for the past several weeks.  According to the manager, the sisters came into the IHOP looking for trouble.  Chairs were thrown across the restaurant as it was nearly destroyed by the rampaging duo.  In addition, a baby can be heard crying in the background of the video.   The fight took a serious turn when one of the sisters allegedly pulled out a knife.
"Oh, she got a knife. She got a knife," one of the onlookers said according to WREG.
This video came from a witness at the scene.
Despite all the damage, the suspects' mother claimed that her daughter was the victim and defended her children's actions.
"They could have handled it better. I would never tell someone defending themselves is wrong," she said according to WREG.
The baby was also checked out after the fight had concluded and is expected to be fine.
Have a tip we should know? [email protected]