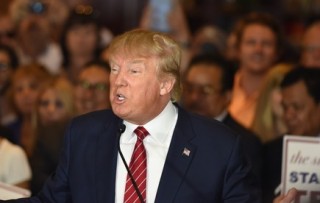 In a phone interview with The Today Show Tuesday morning, Donald Trump answered questions about how he would respond to the terror attacks in Brussels if he was President.
First, he addressed U.S. borders. "I would be not allowing certain people into this country without absolute perfect documentation." When asked who those certain people were, Trump said, "I would exclude the people coming in from Syria without documentation, coming in from the migration line."
Trump blasted Germany's Angela Merkel, who allowed many Syrian refugees into the country, saying that decision "turned out to be catastrophic." Trump blamed a lack of Muslim assimilation for attacks by radicals.
Matt Lauer brought up how Belgian authorities currently have Salah Abdeslam, alleged organizer of the Paris attacks on November 13, in custody. Lauer asked Trump what he thinks would be appropriate to get information from Abdeslam about potential future attacks. "I would say they should be able to do whatever they have to do," but said they won't because "the laws are so liberal over there."
When pressed for specifics about what techniques he would deem appropriate, Trump said he would want to change laws so that waterboarding would be allowed, and if he could expand the law further, he would do "a lot more than waterboarding."
Savannah Guthrie said that some experts do not believe that torture is effective in extracting accurate information, often leading to false reports. She asked Trump if he was among those who believe that it does work. "Yes I am, I am in that camp," Trump said. "You have to get the information, and you have to give it rapidly.
When asked what statement he would give to the American people, Trump said, "We are going to be very strong, we are going to be very vigilant, and we are going to be very tough, and we are not going to let this happen to our country."
[Image via Shutterstock]
Have a tip we should know? [email protected]