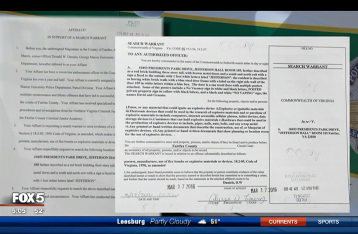 Three students have been arrested after investigators found bomb-making materials inside a dorm room at George Mason University in Virginia.
According to a court documents obtained by FOX5 News, George Mason University police responded to calls of flames shooting out of a window in room 105 at Jefferson Hall and they then discovered the residents were in possession of a green leafy substance. Officers returned a short time later with a search warrant and discovered materials that officials say are commonly used to manufacture firebombs and pipe bombs. The materials, including match books, shaved match heads, a mortar and pedestal, lighter fluid, hand sanitizer, candles and a PVC pipe, were discovered inside a toolbox.
University officials say the materials have been taken into custody and there is no immediate threat, however, some students on campus are more than a little unnerved by the news.
"It's surprising to me that no one else on the floor knew about it, and if they did, they didn't say anything about it," Sydney Cono, a George Mason University student told FOX 5. "Explosives are very, very harmful, but at least the police caught it before something bad could have potentially happened."
Cono also told the news station that students inside the residence hall were not informed of the investigation and she only learned about it from news reports.
George Mason University interim Police Chief Thomas Longo released a statement that said two of the residents were arrested on drug and alcohol charges and the third resident was charged with possession of bomb-making materials.  There is no word on whether additional charges will be added at a later date.  University officials also confirmed all three persons are students, but their names have not been released.
WATCH:
[h/t FOX 5 News; image via screengrab]
Have a tip we should know? [email protected]