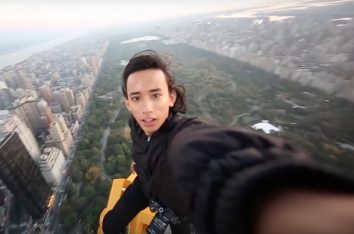 One of two teens wanted by the New York City Police Department in connection with several utterly insane skyscraper climbing stunts reportedly surrendered to authorities on Friday.
ABC 7 News in NYC reports Justin Casquejo, an 18-year-old New Jersey teen, turned himself in Friday thinking he would just get ticket and a summons to appear in court at a later date.  However, authorities apparently thought differently and slapped Casquejo with felony charges of reckless endangerment and trespassing.
The charges stem from videos and pictures police say Casquejo posted on YouTube and other social media websites that show him climbing the new Central Park South building, which is currently under construction.
WATCH:
One video of the most recent incidents appears to show Casquejo and another unidentified individual performing a number of death-defying stunts high above the streets of Manhattan.  Several of the clips seem to show both individuals hanging off the various structures with one arm and no safety harnesses or any of type of special climbing equipment.
This is not the first time Casquejo has been charged in connection with climbing stunts.  In 2014, he pleaded guilty to "climbing a prohibited structure" after video surfaced online showing him scaling 1 World Trade Center, which was under construction at the time.
The idea that a teen could get inside the construction site and climb to the top of a potential terrorist target like the new 1 World Trade Center was very concerning to some.
Perhaps that is at least part of the reason police filed felony charges this time around.  It is a move that could indicate they may not be willing to cut him a break over this incident.
Although, one former NYPD detective, Joe Giacalone, told the news outlet he believes the bigger issue in all of this is the potential danger rescuers may face in the event they have to go pull him off a building one day.
"You have to put them at risk for having to rescue this kid," Giacalone said.
[image via screengrab]
Have a tip we should know? [email protected]