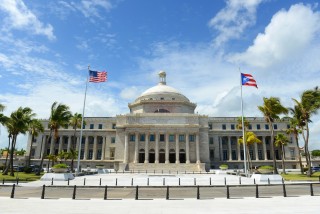 On Monday, the Supreme Court made its ruling that Puerto Rico cannot restructure its' public utilities debt to prevent a financial crisis in the territory.  In a 5-2 ruling, the Supreme Court said that the Constitution gave them no right to re-write a 1984 Congressional statute that would not allow Puerto Rico to restructure its debt.  Puerto Rico has racked up $72 billion in debt with $20 billion of that coming from public utilities' debt.  The territory initially passed legislation in 2014 allowing these public utilities to restructure their debt.  However, a legal challenge was raised by investors against this new measure.
The decision by the Supreme court affirms the decision by a lower court that the 2014 legislation was not allowed under federal bankruptcy laws.
"The plain text of the Bankruptcy Code begin and ends our analysis. Resolving whether Puerto Rico is a 'state' for purposes of the pre-emption provisions begins 'with the language of the statute itself,' and that 'is also where the inquiry should end' for 'the statute's language is plain,' "Justice Clarence Thomas wrote in the opinion of the court according to the Hill.
"Congress could step in to resolve Puerto Rico's crisis.  But in the interim, the government and people of Puerto Rico should not have to wait for possible congressional action to avert the consequences of unreliable electricity, transportation and safe water — consequences that members of the Executive and Legislature have described as a looming 'humanitarian crisis,'" wrote Justice Sonia Sotomayor in dissent according to the Hill.
This issue of Puerto Rican debt has gained increasing awareness especially with the rise of the musical, Hamilton and its lead actor and creator, Lin-Manuel Miranda, the son of Puerto Rican immigrants.  In April, Miranda went on Last Week Tonight with John Oliver to deliver a freestyle about the Puerto Rican debt crisis.
Miranda has been passionate about the island home of his parents and seeks to lobby Congress to make it a priority.  He makes the point that the citizens of Puerto Rico are U.S. citizens and that Congress should save them on the territory that 'is only 100 miles across.'
Have a tip we should know? [email protected]