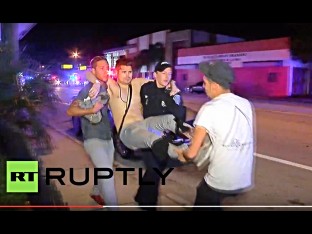 Orlando Chief of Police John Mina on Monday held a press briefing with news reporters to discuss the horrific mass shooting on Sunday at a nightclub that left 49 dead and 53 people injured. In addition to providing new details about incident, Chief Mina didn't discount the fact that some of the victims may have been killed by police bullets during a daring and chaotic hostage rescue situation.
According to Mina, the entire incident lasted over three hours.  It began when Omar Mateen started shooting as he entered the club 2:02 a.m. and ended shortly after 5:05 a.m. when SWAT officers decided to breech an exterior wall in an effort to save hostages.
Mateen reportedly exchanged gunfire with an off-duty police officer at the entrance of the club, meanwhile additional officers responded and also engaged in a gun battle with Mateen.
"Shortly after that, additional officers responded and those additional officers made entry while the suspect was shooting, and engaged in another gun battle with the suspect, forced him to stop shooting and retreat to the bathroom, where we believe he had several hostages. Mina said according to The New York Post.
This exchange of gunfire reportedly caused Mateen to move to the bathroom, taking four or five hostages with him.  He then barricaded himself inside the bathroom area, while another 15 or 20 people were already hiding in an adjacent bathroom, authorities said.
Mina said police were in contact with Mateen, who indicated there may be explosive devices on hostages.
According to The Post, Mateen's retreat to the bathroom allowed officers to help some patrons escape the club and things calmed down for the time being.
"At that time we were able to save and rescue dozens and dozens of people who were injured and not injured and get them out of the club," Mina reportedly said. "Things kind of stabilized."
Mina told The Orlando Sentinel that officials do not believe additional shots were fired at victims inside the restroom areas.
"We had a team of crisis negotiators talking with the shooter [while he was in the bathroom] just trying to get as much info as possible and what we could do to resolve the situation," Mina said, according to The Orlando Sentinel.
Mateen was reported to have holed up in the restroom where he engaged in a standoff with officers for nearly three hours, Mina said.  He added, "He was cool and calm when he was making those phone calls to us.  He really wasn't asking for a whole lot and we were doing most of the asking."
Mina did say, "there was talk about bomb vests and explosives" at some point during the calls with Mateen and The Sentinel reports officers eventually became concerned that loss of life was "imminent."
Based on the officers beliefs about the potential danger to the hostages, Mina said he made the decision to breach the wall.  Shortly thereafter, not only hostages came storming out, but Mateen also came out, armed with a long gun and a pistol.
"The suspect came out of that hole himself armed with a handgun and a long gun and engaged in a gun battle with officers where he was ultimately killed," Mina said.
According to the Post, Mina said "eight or nine officers opened fire" because they were being fired upon.  He also credited the officers for savings lives and acting heroically.
It was at this point, however, when Mina told reporters that investigators have not yet ruled out the possibility that some of the freed hostages were struck and killed by bullets fired from SWAT officers attempting to kill Mateen.
The New York Times reports:
When asked during the news conference if there was a chance that people might have been struck by friendly fire or in the crossfire, Chief Mina said: "I will say that is all part of the investigation.
FBI agents will look into that issue as part of the investigation, according to the reports.
Editor's Note: An earlier version did not include the entire context of Chief Mina's statement regarding victims possibly being struck by bullets fired by police officers . We have now added more context to the relevant exchange that occurred during a press briefing earlier on Monday.  
Have a tip we should know? [email protected]