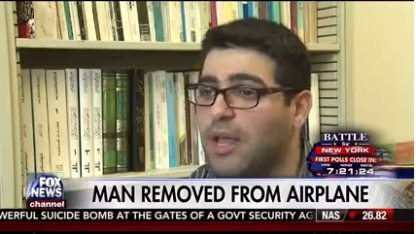 LawNewz.com on Monday reported on a lengthy Washington Post interview with Khairuldeen Makhzoomi, a 26-year-old student at the University of California, Berkeley, who says he was kicked off a Southwest Airlines flight earlier this month for speaking in Arabic during a phone conversation with his uncle prior to takeoff.  After the story was posted, more than a few readers took to the comments section to say there had to be more to the story and it now appears that there is.
First, a quick recap of the report from yesterday.
Makhzoomi told the Post that he called his uncle, who lives in Baghdad, after boarding a Southwest Airlines flight in Los Angeles earlier this month. He says the two had a conversation in Arabic about an event Makhzoomi attended the night before.  Makhzoomi says he received strange looks from a woman who then got up and he believes reported him to the flight crew.  The next thing he knew, Makhzoomi says he was escorted off the plane and eventually taken into an interrogation room where he was questioned by the FBI before ultimately being released.
Makhzoomi's story even got the attention of the Council of American-Islamic Relations (CAIR) who released a statement condemning what the group says is a recent increase in incidents of discrimination against Muslim airline passengers.
So, about those commenters yesterday who said there had to be more to the story?
Well, this afternoon on Happening Now on Fox News, guest host Heather Nauert provided some important additional details about the story that somehow did not make it into the Washington Post profile on Monday.
According to the Happening Now report, the woman who allegedly reported Makhzoomi to the airline crew was actually an Arabic speaker herself.  This woman reportedly said that she overheard Makhzoomi mention ISIS and possibly another terror group during his phone conversation and that is why she alerted the airline crew.
Perhaps that explains why Makhzoomi has reportedly turned down offers from multiple lawyers to file a lawsuit against the airline.
For the record, both lawyers who appeared in the legal segment on Happening Now where this report was discussed both agreed that under these circumstances, Makhzoomi likely does not have a valid claim against the airline.
[image via screengrab]
Have a tip we should know? [email protected]