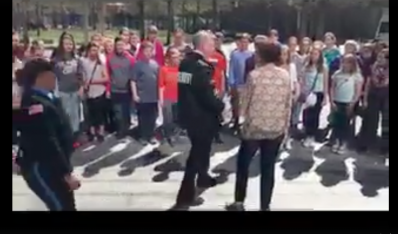 During a field trip to the 9/11 Memorial, a group of school children form North Carolina say they wanted to honor the victims by singing the "Star Spangled Banner."  The children were suddenly interrupted about halfway through the song by two security guards who demanded the singing stop, immediately.
The reason?
According to a teacher who accompanied the children, the security guards said the children needed a permit to conduct any type of "public demonstration" at the 9/11 Memorial.
Connie Shepard, a parent traveling with the school group, posted a video of the incident on Facebook that quickly went viral and now has almost 400,000 views.
WATCH:  
"WMS chorus singing @ Twin Towers Memorial," Shepard wrote on Facebook.  "They stopped them half the way thru. You can't sing the National Anthem. So sad this is happening everywhere. They sounded great. God Bless America!"
"Some of the students were very upset and confused. I told the children, 'This is a place where you need to respect authority even if you don't understand it,' " teacher Martha Brown told The New York Post.
Brown also told the newspaper that she does not think the incident would have gone viral if the security guards handled things differently.
"He could have waited 30 to 45 seconds for us to finish, or he could have stopped us before we started, and it wouldn't have gone viral," Brown told The Post.
A spokeswoman for the 9/11 Memorial expressed regret over how the incident was handled.
"The guard did not respond appropriately," the spokeswoman told The Post. "We are working with our security staff to ensure that this does not happen again with future student performances."
Let's hope so.
[image via screengrab]
Have a tip we should know? [email protected]