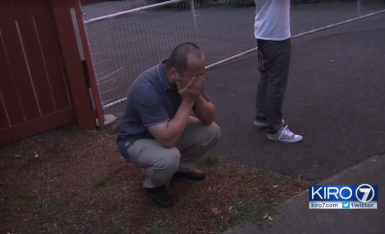 The owners of a Chinese restaurant in Skagit County, Washington are apologizing after they say a 'misunderstanding' led sheriff's deputies to believe they were not welcome to eat at the restaurant.
It all started on Thursday when four Skagit County deputies went to lunch at Lucky Teriyaki, a restaurant approximately 70 miles north of Seattle, in Sedro-Wooley, WA.  When the deputies went to pay, they say the owner informed them that law enforcement officers were not welcome in the restaurant anymore.  What happened next was described in a post by the Sheriff on the department's Facebook page. It quickly went viral:
I am not often speechless but today I was advised of an incident at the Lucky Teriyaki restaurant in Sedro-Woolley that completely took me by surprise. Particularly on the heels of the United We Stand by our Law Enforcement event that was such an overpowering show of appreciation for our deputies and officers serving Skagit County.
This afternoon 4 Skagit County Sheriff's office deputies were finishing up lunch at Lucky's. As 2 deputies went up to pay they were informed by the owner that he requested they not eat there anymore. They were told that other customers didn't like law enforcement there. My chief deputy spoke to the owner to confirm this because he simply could not believe what he was hearing. The owner not only repeated the request but asked that we spread the word to other law enforcement that they were no longer welcome either.
I understand a business owner has a right to refuse service if he wants to…….I also understand that as customers we all have the right to find some other restaurant to take our lunch break in.
Will Reichardt, Sheriff
Skagit County Sheriff's Office
WATCH:
Seattle reporter Natasha Chen, who speaks fluent Mandarin, reached out to the restaurant owner in an effort to sort out what had happened.  Reporting for  KIRO 7 News, Chen says the owner told her he barely speaks broken English and did not understand gravity of the situation.  Although, he did seem to acknowledge telling the deputies that they made other customers "uncomfortable."  After further discussion with Chen in which she explained the deputies perspective, the owner broke down in tears and apologized for the misunderstanding.
The owner, Mr. Li, told the news station that they will be offering free food to all law enforcement personnel on Monday. "We want them to come," he said.
Have a tip we should know? [email protected]