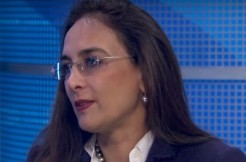 Lawyer Harmeet Dhillon has filed a federal class-action lawsuit on behalf of supporters of Donald Trump. On June 2, protests against Trump turned violent in the city of San Jose, California. The lawsuit claims the city more than botched its handling of the incident.
From the lawsuit obtained by LawNewz.com:
The City Defendants were fully aware of the already volatile situation involving hundreds of protesters outside the Trump Rally, and knowingly created a dangerous situation for all Trump Rally attendees by requiring all persons leaving the event to walk directly into and through a mob of physically violent and aggressive antiTrump protestors, and by restricting their ability to exit safely, in alternative directions, away from the violent mob. In addition to creating this dangerous situation, the City Defendants directed the approximately 250 San Jose police officers, or other local officers subject to the City Defendants' control, not to intervene as they witnessed the many violent criminal acts perpetrated by dozens of anti-Trump protesters on the Class members.
You can reach the full complaint here:
Trump Supporter Lawsuit by LawNewz on Scribd
Dhillon is a political player herself. She's also one of Trump's delegates, and the RNC National Committeewoman-Elect for California.
San Jose Mayor Sam Liccardo, a co-defendant, disparaged the lawsuit, and said local police cracked down on "perpetrators of violence" with arrests and warrants.
"We will do everything necessary to support the successful prosecution of the perpetrators to the fullest extent of the law," he said, according to Law.com.
Dhillon is representing 14 people, including Rachel Casey, who was egged.
Woman who supports Trump surrounded by protesters, who taunt her, then throw eggs and bottles at her. pic.twitter.com/nHJ3cgYOfR

— Jacob Rascon (@Jacobnbc) June 3, 2016
–
Follow Alberto Luperon on Twitter (@Alberto Luperon)
Have a tip we should know? [email protected]