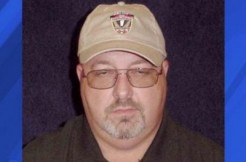 A federal jury decided that Daniel Winters, Chief of the Stevenson Police Department, did in fact beat up a burglary suspect, according to a Justice Department press release.
Prosecutors said that on March 22, 2015, "D.F." allegedly burglarized the home of one of Chief Winters' friends. Winters and this friend reportedly confronted him at a home, without a search warrant, and beat him up.
"Over the course of approximately five minutes, Winters not only participated in the beating, but stood by watching his friend beat D.F. and did nothing to stop it," the statement read. D.F. sustained wounds on his face, chest, and back. A passing motorist called 911, and Stevenson police later took him to jail. When he started spiting up blood, a jailer asked Winters if they could call an ambulance. That request was denied, and this jailer got permission from another supervisor, the statement said.
"This police chief abused his authority, broke the law and violated the public trust," said Principal Deputy Assistant Attorney General Vanita Gupta. She heads the Justice Department's Civil Rights Division. "When law enforcement leaders engage in egregious, unlawful conduct – as this defendant did here – they do a disservice to the thousands of hard-working officers who perform their difficult, demanding jobs each day with integrity and distinction."
Winters is scheduled for a sentencing hearing on October 27. He faces up to 20 years in prison because he committed one count for beating an arrestee, and one count for failing to protect the victim from harm.
LawNewz.com reached out to the Stevenson Mayor's Office for comment, but he was not immediately available. We'll update if we get a response.
–
Follow Alberto Luperon on Twitter (@Alberto Luperon)
Have a tip we should know? [email protected]