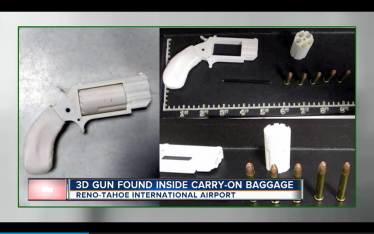 Government officials have long warned about the possibility of 3D printed plastic guns slipping through airport security checkpoints. It seems this fear almost became a reality last week when airport security agents in Reno, NV reportedly discovered a 3D printed gun inside a man's carry-on bag.
The Associated Press reports the incident occurred on August 4 at a TSA checkpoint at the Reno-Tahoe International Airport.  According to the police report, the 3D printed gun was discovered in Frederick Vandeman's carry-on luggage. The gun was apparently not capable of actually being fired, although it was still loaded with five .22 caliber bullets.  The security scanner detected the bullets and led TSA agents to search the luggage.
WATCH:
Vandeman reportedly told police he made the gun on his own 3D printer and accidentally left it in his bag.  He opted to leave the gun behind at the checkpoint and was allowed to go on his way without any charges.
However, TSA spokeswoman Lorie Dankers told the AP the Vandeman was contacted by the FBI when he reached his final destination.  He also may still face fines up to $7,500 as part of an administrative hearing process.
Dankers said although she cannot be completely sure, she believes this may be the first instance of TSA agents discovering a plastic 3D printed gun at an airport checkpoint in the United States.  All types of firearms, even toy or replica guns, are never permitted to be taken on board commercial airplanes in carry-on luggage.
[image via screengrab]
Have a tip we should know? [email protected]