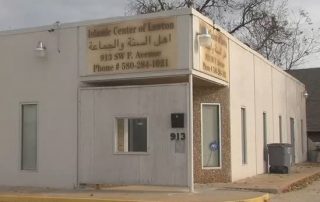 The body of a dead pig was discovered in the parking lot of an Oklahoma mosque, and police are trying to figure out who's responsible. Security video from the Islamic Center in the city of Lawton showed a truck depositing the carcass some time Tuesday night.
A police officer noticed the animal when he was driving by. It's still unknown who is behind it, but they could potentially be charged with a hate crime for dumping a pig in front of a mosque, as pork is forbidden by Islam.
KSWO, Lawton, OK- Wichita Falls, TX: News, Weather, Sports. ABC, 24/7, Telemundo –
"I don't want to call it a hate crime, because I didn't know exactly the intention of the person, the perpetrator," Dr. Hassan Ahmed, the Center's director, told KSWO TV. "But if their intention was against the Islamic Center or Muslims here in the U.S., I would call it a hate crime."
"The only reason a person does this kind of thing is because of fear of others," Dr. Ahmed said. "Not knowing the others is what makes it a problem." He believes that people should be better informed when it comes to all religions. "Education is power," he said.
Regardless of intent, it's illegal to dump any animal carcass in front of any street, business, or residence in Lawton.
[Screengrab via KSWO]
Have a tip we should know? [email protected]