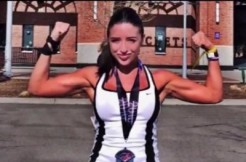 The tests led nowhere. NYPD detectives found DNA when investigating the murder of Karina Vetrano, and thought it could lead them to the killer. The 30-year-old Queens woman died on August 2 after she was brutally attacked and sexually assaulted during an afternoon jog. There were no positive results. No matches with state or local databases for convicted criminals. Months passed and the case has grown colder. They had a piece of the suspect but what to do with it?
On Thursday, Queens District Attorney Richard Brown and Police Commissioner James O'Neill called on the state Commission on Forensic Sciences to finally allow "familial DNA searching." It's pretty simple to describe. Maybe the sample belongs to a biological male with a Y chromosome, which is handed down patrilineally. An investigator could use that to locate a father, son, or brother. Proponents say it's the right thing to do, at least after every other avenue has been tried.
"This tragic murder has been exhaustively investigated using every tool currently available, but it remains unsolved," Brown wrote on Thursday. "The killer remains at large, the public remains in danger, and the suffering of the victim's family is amplified by law enforcement's inability to yet solve this most awful crime. The victim, her family, and the public deserve justice and we have an obligation to use every means at our disposal to identify the murderer."
He didn't mention it, but the technique was used to catch Lonnie David Franlin Jr. over in California. Known as the "Grim Sleeper," this convicted serial killer murdered 9 women and a teenager.
It's already been used in Britain and other parts of Europe, but it's not so widespread in the United States. Only nine states allow the procedure, and opponents usually point to the Fourth Amendment when explaining why investigators shouldn't use it.
Professor Sonia M. Suter, who teaches over at The George Washington University Law School, acknowledges that many legal questions about this controversial technique have yet to be resolved, but she has warned that law enforcement might collect DNA clandestinely, and that state laws vary in regard to privacy protections:
Even if we assume that the Fourth Amendment protects against unwarranted searches of relatives' abandoned DNA (a rather large assumption), familial searches still raise potential threats to privacy and civil liberties when a relative voluntarily provides a DNA sample to the police for genetic profiling. Just as we saw with arrestees, the long-term retention of the profile and/or sample raises a second set of privacy concerns apart from the initial collection of the samples. The fact that the partial match provides a rationale for the police to compare the relative's profile to the crime scene sample is irrelevant with respect to any other criminal investigations. Long-term retention of the relative's DNA profile would effectively place the relative under indefinite surveillance for all other crimes, which seriously undermines privacy and civil liberty interests by making the relative an object of continued police scrutiny.
[image of Vetrano via Instagram]
Have a tip we should know? [email protected]