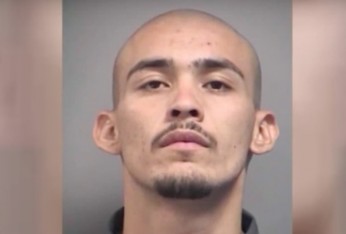 A North Nevada Las Vegas murder suspect is on the loose Monday morning after local reports say he escaped from a police interrogation room.
KTNV reports Alonzo Perez, 25, was in custody of North Las Vegas Police detectives on Friday morning on suspicion of murdering another man, identified as Mohammed Robinson, 31.  According to the victim's sister, Perez shot and killed Robinson outside a McDonald's after Robinson did not hold the door for Perez's girlfriend.
WATCH:
Around 10:00 a.m. on Friday morning, Perez was reportedly handcuffed while inside an interrogation room at the North Las Vegas Detective's Bureau building.  After the interviewing detective stepped out of the room for a moment, a police spokesman told reporters that is when Perez managed to escape.
"The detective stepped out for a moment and that's when he escaped," Officer Aaron Patty told KTNV. "He was able to twist and break the handcuffs in that moment.
"[Perez] is considered armed and dangerous," Patty added.
After escaping the interrogation room, Perez made it all the way outside of the Detective's Bureau building, where police say he stole a white pickup truck from a neighboring parking lot.  The stolen pickup truck was later located by police, abandoned.
Perez is still on the loose and "is considered armed and dangerous, according to Officer Patty.
Officer Patty also told reporters there would be an investigation into where detectives made any mistakes in the handling of Perez, but that investigation would begin "at a later date."
The first concern is finding Perez, who is described as 6'3" Hispanic male with a large Air Jordan tattoo on his neck.  He was last seen where a white sports jersey with the number 21.
The victim's sister told the news station she wants Perez found and cannot understand how anyone in the community can feel safe while he is on the loose.
"I want him found and I want him to pay for what he did," said Magdaliene Nestor-Robinson, Mohammed Robinson's sister. "It's ridiculous. You need to think about your actions. You could've walked away from the argument, you didn't need to start the argument, you didn't need to take it any further."
Have a tip we should know? [email protected]