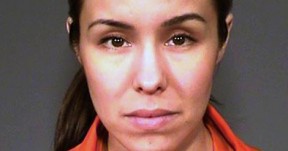 It's a hard-knock life. Not so much for Jodi Arias, the Arizona woman convicted of murdering her boyfriend Travis Alexander in cold-blood. The now bespectacled woman of spectacle spoke with cushy affection about her life behind bars for the first time since her April 2015 sentencing. Audio of a phone call obtained by Radar Online follows Arias's flippant conversation with Philadelphia-based rapper Kareem "Lefty" Williams.
Arias placed the call after Williams produced a video about her in order to bring awareness to domestic violence and PTSD issues, both of which Arias claims she suffered from prior to Alexander's death. The jury in her case rejected her claims when they found her guilty of first-degree murder.
The audio of the 15-minute call reveals a light-hearted and upbeat Arias describing her dinner, "We had chicken fajitas here tonight. Really good," she says. "A big old pile of caramelized onions, some bell peppers, like, all the works."
Williams proceeds to tell Arias about his 10,000 Twitter mentions and the negative attention he's received from the video. "Haters gonna hate," Arias responds. The rapper confides that he thinks they might be the two most hated people in the country, but an upbeat Arias dismisses the label.
The winsome killer is serving a life-sentence without parole in an Arizona State Prison for the 2008 murder.
Listen to Arias's conversation with Williams below:

Watch the bizarre rap video produced by Williams below:

[h/t RadarOnline]
Have a tip we should know? [email protected]