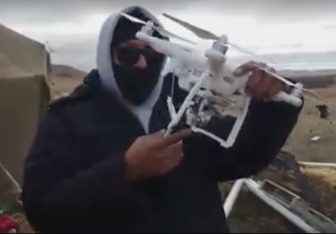 Law enforcement officers shot down a drone operated by activists on Sunday near the site of ongoing protests at the Dakota Access pipeline construction project in North Dakota.
The drone flew in a threatening manner towards a police helicopter that was assisting in surveillance of the protest, according to a statement from the Morton County Sheriff's Department.  "A sheriff on board the helicopter reported to law enforcement on the ground that the helicopter pilot and passengers were 'in fear of their lives', and that the 'drone came after us,'" the statement reads.
The department says law enforcement personnel damaged the drone after hitting it with"less-than-lethal" ammunition.
Morton County Sheriff Kyle Kirchmeier further explained the situation in a statement obtained by LawNewz.com:
The FAA has strict guidelines and regulations governing the use of drones around unprotected people and manned aircraft. The drones being operated near the local protests and the camps south of Mandan generally are not being operated within the regulations. Reports of drones not being operated within the FAA guidelines or in a reckless and unsafe manner are being investigated and forwarded to the Morton County States Attorney's office.
Activists posted a video of what appears to be the damaged drone on Facebook on Sunday afternoon.
[image via screengrab]
Have a tip we should know? [email protected]