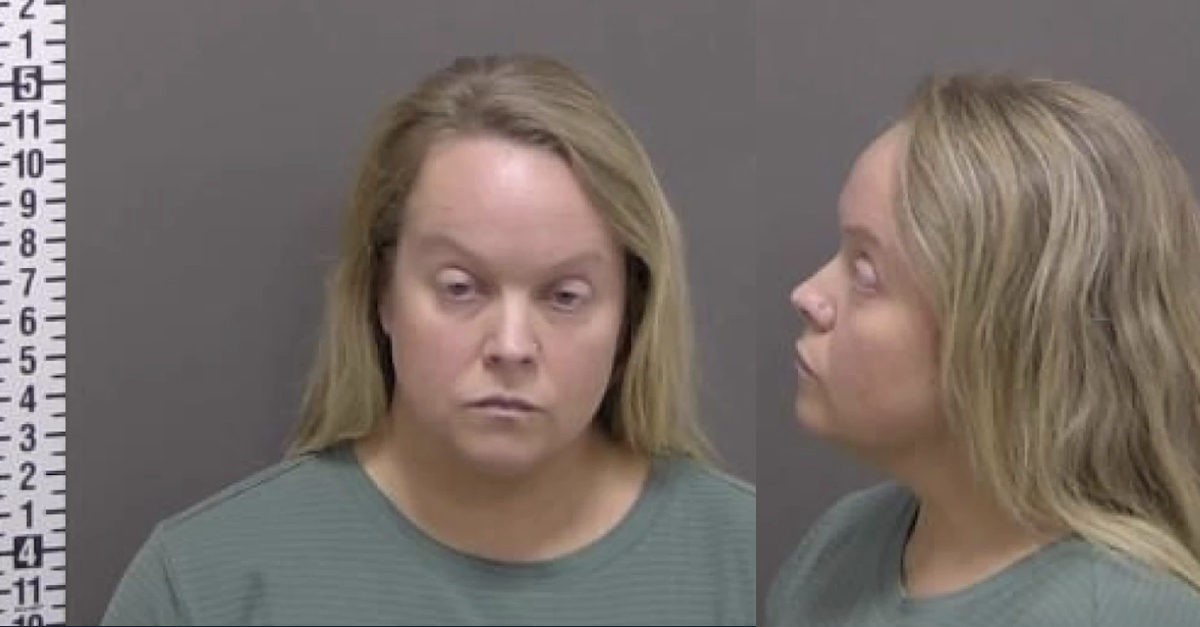 A North Dakota woman who ran a daycare out of her house was arrested and charged this week with numerous child abuse offenses.
Miranda Sorlie, 42, stands accused of three counts of child abuse by a caregiver, and six counts of child neglect by a person providing parental care, according to Cass County court records reviewed by Law&Crime. Each of the nine counts is considered a felony offense.
Court documents obtained by Fargo, N.D.-based NBC affiliate KVLY allege the underlying incidents involve four different children all under the age of two. Law enforcement allege the abuse and neglect occurred on various occasions between January 2020 and May 2022.
"Everybody that's been around children, that's raised children recognizes that things happen at times but then when things keep happening and they happen also to others, then you have to stand up and take a look and see, 'Ok, is there more of a pattern here than just a couple one-off events?'" Cass County Assistant State's Attorney Ryan Younggren said in comments reported by the TV station.
Soon enough, that question was answered in the affirmative, law enforcement would come to claim.
Sorlie first appeared on the radar of the West Fargo Police Department in May of last year when the family of a 1-year-old boy she had been watching complained about injuries he sustained while the infant was allegedly being cared for the by the defendant, according to documents obtained by KVLY.
Once the boy returned home from daycare early that month, his father noticed what police described as bruising on the boy's ear, the documents stated. Other alleged injuries present on the child included marks on the top of his scalp, arms, and feet. The boy's family then asked Sorlie about the injuries. She allegedly pled ignorance and suggested the infant's bruises and marks were self-inflicted, documents said.
A doctor evaluating the injuries suggested otherwise, according to records obtained by the station.
Sanford Hospital Dr. Jada Ingalls diagnosed the 1-year-old boy's injuries as consistent with having been pinched and slapped with an open palm, the court document says. Ingalls allegedly went on to express concerns about other children under Sorlie's watch.
A Cass County social worker attempted to follow up with the defendant, but the daycare owner allegedly refused to answer the door. Instead, Sorlie allegedly agreed to meet with police in her house on May, 11, 2022, but she had a change of heart and canceled the interview the day before it was scheduled to occur, saying she did not feel comfortable being quizzed in her own home. After that, police claim, the defendant did not answer or return phone calls.
A week after the canceled police interview, a social worker and a police officer attempted another in-house interview. According to court documents, the defendant saw the two approaching, closed her garage door, and then refused to answer the front door.
The court documents allege that a second family contacted police in May 2022 to say they were trying to get their child back from Sorlie, who wouldn't answer the door. Officers responded and eventually the defendant did answer the door, the documents allege, telling police she and her charges were taking a nap and didn't hear anyone knocking.
Later that same day, a third family allegedly contacted police and stated that when they picked up one of their daughters from Sorlie's residence, her diaper had not been changed all day. The young girl also allegedly had bruises on the back of her neck – and a laceration and bruise on one of her cheeks.
According to the court documents obtained by KVLY, Dr. Ingalls examined each child under the defendant's care and found evidence of abuse and neglect. Another 1-year-old boy, the doctor noted, was still unable to walk or crawl but was covered in bruises and had a cut on the back of his neck.
Ingalls said she was "extremely concerned" about another young girl who was "failing to thrive while they attended Sorlie's daycare," due to not being properly fed and therefore unable to properly grow, the court documents say. The doctor went on to tell law enforcement that the young girl began growing normally after being taken out of the defendant's care.
"You can't raise a child on your own," Younggren went on. "In today's modern world it's very difficult to do that. When we drop children off at certain places, we expect them to come back in the condition we left them or at least in an explainable way if they're not. We don't expect people to be perfect, that's for sure, but there's a responsibility that people bare and that's really what this case is about."
The defendant was arrested on Monday. She is currently out on bond. Her next court date is currently slated for Feb. 9.
In a statement, the West Fargo Police Department told Law&Crime that Sorlie was arrested "with the assistance of the U.S. Marshals Service High Plains Fugitive Task Force."
The police department directed further inquiries to the Cass County State's Attorney's Office and said that all relevant case files had been forwarded to that agency. No response from the prosecuting agency was immediately forthcoming at the time of publication.
[images via Cass County Jail]
Have a tip we should know? [email protected]