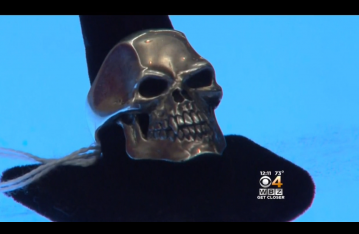 Items seized from inside the Santa Monica hideout of notorious Boston mobster James "Whitey" Bulger are set to hit the auction block on Saturday. The court-ordered auction is intended to raise money for the families of Bulger's victims. All of the money raised at the auction will be divided into 21-shares for the victims' families.
Also this week, federal agents intend to hand out a little over $39,000 in cash to the victims' families, reflecting their share of the $822,000 in cash seized from the apartment by federal agents when they finally captured Bulger after nearly 15 years on the run.
The United States Marshal's Service will oversee the auction which federal prosecutors hope might raise close to $1 million for the victims' families.
"We're hoping to generate hundreds of thousands of dollars, it'd be great to raise $1 million," U.S. Attorney Carmen Ortiz told WBZ-TV.
WATCH:
Some of the higher-end items up for auction include a replica of the 1986 Montreal Canadians Stanley Cup Championship ring. The daughter of Bulger's other longtime female partner, Teressa Stanley, was married to Chris Nilan, a member of the 1986 Canadians Stanley Cup winning NHL team.
Catherine Greig's diamond ring is reportedly the most valuable item to be auctioned off, appraised at $15,000 to $20,000, according to the Boston Globe.  Another item expected to bring in big bucks is a gold diamond claddagh ring worn by Bulger that was assessed at $10,000 to $15,000.
The auction also includes a great deal of items of lesser value, including shoes and clothing found in the mobster's apartment.
One group of items than will not be auctioned off, however, are the dozens of guns found at the apartment.
Bulger, now 86, is serving a life-sentence at a Federal Penitentiary in Florida as the result of his 2013 conviction.  His girlfriend, Catherine Grieg, was recently sentenced to an additional 21-months for contempt of court that will not begin until after she finishes her original sentence.  She is currently serving time on the original sentence through March 2019 as a result of pleading guilty to crimes related to helping Bulger while he was fugitive between 1994 and 2011.
You can take part in the auction on Saturday in person or through simulcast bidding.  Visit txauction.com for additional details.
Have a tip we should know? [email protected]