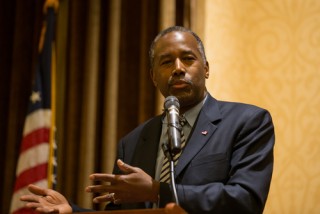 Former presidential candidate Ben Carson's campaign committee, Carson America, spent nearly $1 million in the months of April and May, including payments to a number of former Carson staffers for "political strategy" consulting.
Carson suspended his campaign on March 4 and has since stumped for presumptive Republican nominee Donald Trump, whom he endorsed on March 11.
During April and May, Carson America spent $907,498, of which $272,831 went to political strategy consultants and their travel; that includes $69,080 in May alone. The campaign laid out an additional $123,627 for other forms of consulting — legal, financial, compliance, and digital — for a grand total of $396,458 spent on consulting over the two months.
Former Carson America staffers fared well, chalking up lots of consulting fees. The big bucks went to those in Carson's inner circle. Bob Dees, the neurosurgeon's former campaign chairman, took home $42,582. Gary Michael Brown, his former political director, was paid $30,371. Through April and May, former operations director Renee Burchard was paid $18,700.
Ed Brookover, senior strategist turned campaign manager, received $26,359.78, all of it in April — though he was also being paid by the Trump campaign, to which he became a senior adviser on March 11, the same day Carson endorsed Trump. Brookover took in $11,725 from Donald J. Trump for President in April.
Along with $20,500 for political strategy consulting, campaign treasurer Logan Delany snagged an additional $41,872 in accounting fees through his firm Delany Capital Management — although those payments are easier to understand given that the campaign has sent contributors $1.3 million in refunds.
None of the consulting payments are attributable to funds owed for work performed earlier. At the end of March, the campaign owed money only to its attorney and an air charter service. By the end of May, the campaign still had $1.8 million in cash.
The consulting payments were far higher than those made by other Republican candidates' committees a month after they dropped out of the race.
Efforts to reach the Carson campaign for comment were unsuccessful.
Some of the players who were paid for consulting in the last two months made more once the campaign was over than they did while it was alive. During October, November, and December of 2015, Brookover received an average of $15,000 per month. The comparable figure for Brown was $6,667; the figure for Dees was $6,236; and Delany grabbed just under $2,000 a month. Burchard was paid about the same as she was in April and May. All of these payments were for some form of consulting; despite their titles with the campaign, none of the individuals were on the payroll.
Overall, 22 former Carson America staffers were paid $258,245 in April and May combined for either financial or political strategy consulting services. Eight of them were paid through LLCs, which are sometimes used to obscure where political dollars are going. For example, Bob Dees was paid through Resilience Consulting LLC, and Gary Michael Brown was paid through GMB Strategies LLC. Carson's campaign relied on this LLC strategy throughout its campaign. It's unclear whether several other LLCs that received payment in the aftermath of the campaign had links to former campaign staff members.
The Carson campaign's spending on consultants was heavily criticized even during the race. According to an Associated Press story, Carson's campaign sent $16 million to firms owned by top Carson consultants Mike Murray and Ken Dawson for fundraising and marketing, and spent significantly less on advertisements and payroll. Carson himself said in an interview with CNN: "We had people who didn't really seem to understand finances…or maybe they did, maybe they were doing it on purpose," hinting it was possible that some in his campaign had fleeced him. (Murray and Dawson barely registered in April and May payments by the campaign: Dawson's Eleventy Marketing Group was paid $1,926, while firms affiliated with Murray were not paid.)
"The expenditures on political, digital, and other forms of consulting certainly do seem odd considering they came at least one month or so after Carson officially withdrew from the race," said Geoffrey Skelley, a political analyst at the University of Virginia's Center for Politics. "This may have been completely above-board consulting, but considering the smoke we saw from his campaign, it wouldn't shock me if there was fire, too."
Attempts to reach Carson's campaign and individuals connected with it were unsuccessful.
Other payments were to people with no public link to the Carson campaign, and no visible online presence. An Elizabeth Lee of Montgomery, Alabama received $6,650 in April for finance consulting. An Edith Lancaster of Metairie, Louisiana received $8,500 in April for political strategy consulting. Neither woman could be located for comment.
OpenSecrets Blog compared Carson's numbers to those of other suspended GOP presidential campaigns within the limits of the data available. Because the organizations typically have business to wrap up immediately after they conclude, we considered only payments made at least one month after a campaign ended. For Carson, that was April 4 to May 31, the latest date for which Federal Election Commission reports exist — from 31 to 88 days after the Carson campaign was suspended.
From 31 days to 77 days after Sen. Marco Rubio (R-Fla.) suspended his White House bid, his campaign spent just $25,000, according to the most recent data available; all of it went for political strategy consulting. Carson spent 13 times as much on consulting, or $329,378, in the same time period after suspending his campaign, reports show.
From 31 days after to 80 days after New Jersey Gov. Chris Christie took himself out of the race on Feb. 10, again according to the most recent reports filed, his campaign spent $7,126 on consulting, all earmarked for political strategy. The Carson campaign dwarfed this figure: It spent $330,674 on consulting from 31 days to 80 days after he pulled out — more than 45 times as much as Christie's campaign.
Wisconsin Gov. Scott Walker suspended his campaign on Sept. 21, 2015. From 31 days to 88 after that, the Walker campaign spent only $47,769 on mostly legal and fundraising consulting. In the 31 days to 88 days after Carson dropped out, his campaign spent a $396,458 — 730 percent more than Walker.
The Carson campaign also spent significant amounts on travel — $124,881 for flights, hotels, and other such costs, including nearly $1,300 dollars to a limousine service in mid-April. Other major costs included credit card bills, database management, rent, and telephone service.
Alec Goodwin work for opensecrets.org, a non-partisan nonprofit organization which tracks money in U.S. politics. They all contributed to this report.
Have a tip we should know? [email protected]