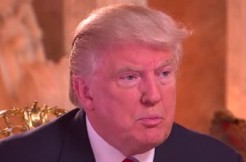 Donald Trump said he wouldn't ask U.S. Supreme Court Justice Sonia Sotomayor, a Latina, to recuse herself from cases related to his immigration policies. In a Friday report, NBC's Lester Holt had asked him if it would be his "wish" for her to not participate.
"No, it wouldn't be," Trump said. "I'd want people that can vote on anywhere. I want people without conflict, and you have to assume they don't have a conflict."
Holt had asked about Sotomayor because of Trump's long-running friction with federal judge Gonzalo Curiel, a U.S.-born Latino whose family comes from Mexico. Curiel is presiding over an ongoing lawsuit against Trump's eponymous school, but he hasn't dismissed the case, leading to some criticism from the presumptive Republican presidential nominee.
Here's the interview. The relevant part happens within the first 90 seconds.
Since February, Trump has publicly blasted Curiel, often citing the judge's ethnicity. In a Wall Street Journal interview published June 2, he said his plan to build a wall along the U.S.-Mexico border caused Curiel to be biased.
"It an inherent conflict of interest," he said.
In the Friday report, Holt asked him if he wanted to "walk back" the comments on Curiel.
"I don't want to walk anything," Trump said.
As for Sonia Sotomayor, she was born in the Bronx, and has always been an American citizen. If you were being colloquial, you might say she's "Puerto Rican" because her family comes from that commonwealth of the United States. It's worth mentioning that since 1917, citizens of Puerto Rico have also been considered U.S. citizens. Because that land is a territory, it remains unclear if the people there are treated as "natural born" under the Constitution, though it's possible a hypothetical federal case could determine this is the case.
–
Follow Alberto Luperon on Twitter (@Alberto Luperon)
Have a tip we should know? [email protected]