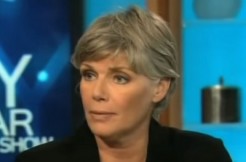 On June 17, someone allegedly attacked Top Gun actress Kelly McGillis at her Henderson County, North Carolina home. Now The New York Daily News have obtained several tense 911 calls made that night.
In the first, McGillis tried to give the operator her address, but something happened, and she screamed "Help me!" before the call was cut off.
"Crap," the operator said.
The next call is more broken up. McGillis reached the same operator, who tried asking for her for the address. McGillis only screamed, "Please help me" several times before that call also abruptly ended.
The operator then tried at least twice to reach her, but was sent to a voice message.
Finally, a driver unrelated to the incident called 911, saying McGillis flagged her down. She gave the phone to the Top Gun actress, who said she didn't know her attacker, and that the attacker accused her of stalking.
Check out the calls here:
In a statement published June 18 to Facebook, McGillis said she was attacked at her home by a home invader.
"I asked her who she is and why she was in my house and she said 'you know why you've been stalking me in Twitter,'" she wrote. "Not true." She also denied the stalking accusation in one of the 911 calls.
Sheriff's deputies arrested Laurence Marie Dorn, 38, for the allegedly incident. She's been charged with second-degree burglary, misdemeanor larceny, misdemeanor stalking, assault and battery, and interfering with emergency communication. As of Saturday, Henderson County jail records don't list her as an inmate.
–
Follow Alberto Luperon on Twitter (@Alberto Luperon)
Have a tip we should know? [email protected]