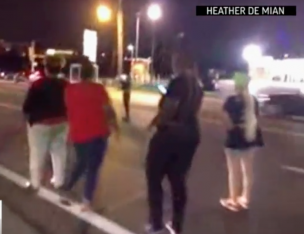 Police in Ferguson, Missouri are investigating an incident on Tuesday night that caused an abrupt end to a protest marking the second anniversary of the death of Michael Brown.  Police say multiple gunshots were fired at a vehicle after it struck a protester who was walking in the middle of the street, attempting to block traffic.
KSDK reports approximately 75-100 people came out to protest along West Florissant Avenue on Tuesday evening.  Police say they issued multiple warnings to protesters, instructing them to not block traffic.  Despite these warnings, an unidentified man continued to walk out into traffic in an apparent attempt to block the street.  The man was struck by a passing vehicle and thrown into the air.  As a crowd quickly gathered around the injured man, police say multiple gunshots were fired at the vehicle.  Video of the alleged incident appeared online Wednesday morning.
WATCH:
Police told reporters the motorist involved in the incident was uninjured, although they did find evidence of bullets hitting the vehicle. Police also say the motorist is cooperating with the investigation and they do not believe she intended to hit the protester.
"By all accounts, her version of what happened seems to fit the version of what happened to a person driving down a busy West Florissant Avenue and not seeing a person standing there,"  Jeff Small, a spokesman for the city of Ferguson, told the St. Louis Post-Dispatch newspaper.
After the vehicle hit the protester, the article states,"[W]itnesses said, several protesters pulled out guns and began chasing and firing at the fleeing car."
Witness Sharon Cowan told the Associated Press the injured protester was transported to the hospital in a private vehicle.  Police are reportedly still attempting to confirm the extent of the individual's injuries.
As of Wednesday morning, police say no arrests have been made.
[image via screengrab]
Have a tip we should know? [email protected]