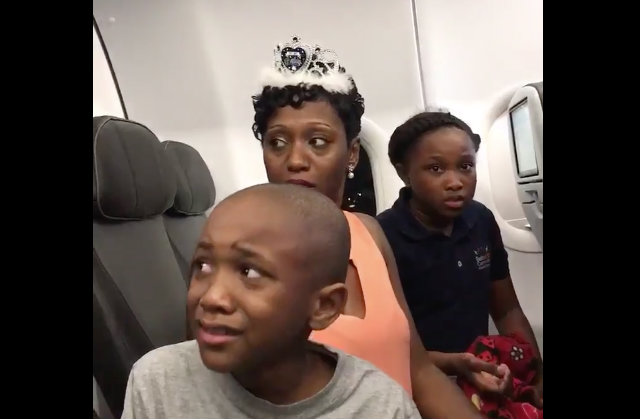 A New Jersey man has threatened to sue after JetBlue employees kicked him and his family off a flight over a cake.
Cameron Burke told The New York Daily News in an interview that on May 3, he and his family went to John F. Kennedy Airport in NYC for a Las Vegas flight. They were going to celebrate wife Minta's 40th birthday, and brought a cake as part of their carry-on luggage, he said. That got put in an overhead bin.
"A flight attendant nicely asked me to remove the cake from that compartment, so I moved it to another one," he said. Then she reportedly told him to put it under the seat in front of him. "I did."
Things turned sour when a second flight attendant started chewing out the first, then Burke, he said.
"She said I was being non-compliant," he claimed. "I said, 'Miss, have you been drinking?' Because her behavior was irrational and she stormed off."
Port authority police were called after Burke refused an airline employee's demand to leavet he flight, but cops did nothing, and the father of two started recording.
"No one did anything wrong," an officer said on the video. "Everyone's going to be okay. Unfortunately, they're going to have to rebook everyone."
Jersey City family kicked off flight over a cake. @JetBlue says passenger was agitated/security risk. Video appears to tell different story. pic.twitter.com/q0zQzNbHoa

— CeFaan Kim (@CeFaanKim) May 14, 2017
They were kicked off the plane, though their luggage allegedly got left behind. Burke's mother in law picked up the baggage in Vegas, Burke said. Their money and reward points were reportedly refunded.
JetBlue countered by telling the Daily News that the Burkes were disruptive by putting the cake in a compartment for emergency and safety equipment, and refusing requests to move the food.
"The customers became agitated, cursed and yelled at the crew, and made false accusations about a crewmember's fitness to fly," said JetBlue spokesman Doug McGraw.
Burke has promised to sue, and wants the flight attendant fired.
[Screengrab via Cameron Burke]
Have a tip we should know? [email protected]