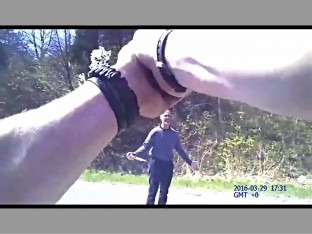 Authorities in Ohio on Tuesday released dramatic body camera footage showing a confrontation along Interstate 75 last week between a police officer and a crazed knife-wielding man who was begging the officer to kill him.
According to police, Officer Josh Hilling stopped to investigate after observing an individual walking along the shoulder of Interstate 75 about 13 miles north of Cincinnati.  When Officer Hilling approached the man, identified as 46-year-old Javier Pablo Aleman, he was initially cooperative but then became confrontational when Officer Hilling sought to pat him down.
Aleman then suddenly pulled out a large knife and appeared to attempt to lunge towards the officer while shouting, "Kill me! Kill me! Kill me now! … I'm going to kill you!"
The video then shows Officer Hilling draw his weapon and shoot Aleman once in the abdomen. Aleman briefly dropped to the ground but then got back to his feet and repeatedly disobeyed Officer Hilling's commands to drop the knife.  Officer Hilling is seen continuously backpedaling to keep distance between himself and Aleman while shouting, "Sir, get down! Sir, get down!"
Warning: the video contains strong language and graphic content.
WATCH:
Additional officers quickly arrive on scene as Aleman struggles to stay on his feet for several minutes, all while continuing to beg the officers to kill him.  According to local news reports, Aleman was finally put down with a Taser and then taken to hospital where he remains, recovering from a single gunshot wound to the abdomen.  He has been charged with attempted murder.
As the investigation into the incident unfolded, authorities discovered that Aleman was wanted in Maryland in connection with the stabbing death of a 51-year-old man in Dundalk on March 17.  Authorities believe the knife Aleman was carrying during the confrontation with Officer Hilling is likely the same knife used in the Maryland homicide, but they are still working with Maryland investigators to make a final determination pending DNA tests.
Hamilton County, Ohio Prosecutor Joe Deters released the body cam footage at a press conference on Tuesday where he announced that no charges would be filed against Officer Hilling over the shooting.  In fact, Deters praised Officer Hilling's restraint and called him a very brave individual.
"I'm not going to speak for the chief or the sheriff, but Joshua Hilling deserves a medal for what he did," Deters told reporters at the press conference.
Officer Hilling was placed on paid leave after the shooting but is now expected to return to duty next week.  He has only been working as a full-time officer for 12 weeks, according to WCPO-Cincinnati.
UPDATE:
LawNewz.com reached out to former NYPD officer and security expert Bill Stanton to ask his opinion about what he saw in the video and he said Officer Hilling "went far and above what was asked of him" as a police officer in that situation.
Stanton said he did not believe this started as "suicide by cop" situation because the suspect was "chillingly calm" and appeared to be plotting for the right moment to lunge at the unsuspecting officer with the knife.
However, Stanton did express concern that some people will attempt to hold this video up as the new standard for police restraint.
"My fear is some advocacy groups … or even prosecutors will look as this as the new norm and with that everyone is in danger.  No cop should have to back up like that to avoid taking a second shot.  Overall, if this establishes the new bar of restraint for police officers … we are in dangerous territory — not just for police officers, but for the public too," Stanton said.
[h/t Cleveland.com; image via screengrab]
Have a tip we should know? [email protected]