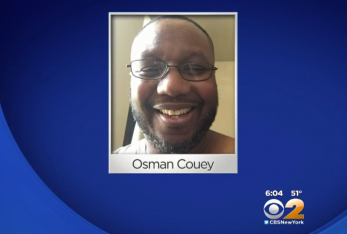 A New York City elementary school teacher has been arrested and charged with assault and acting in a manner injurious to a child under 16 after police say he threw a second-grade student across the hallway at P.S. 194 County Cullen in Harlem.
According to police, the teacher, Osman Couey, 53, grabbed the 7-year-old student, Ka'veon Wilson, and threw him across the hallway in December of last year and the entire incident was captured on the school's security camera system.
"You see on video that he grabbed Ka'Veon by both arms and threw him across the hallway and slammed the door," Ka'veon's mother, Chantel Phinazee, told WABC-TV.
Phinazee also told WABC-TV that she is frustrated with the school because they waited over a month to inform her about the incident.  However, in a separate interview with CBS2 News, Phinazee told the station that her son suffered bruising on his back and had to be taken to the hospital after the incident.
She has received support Rev. Al Sharpton's National Action Network and hired an attorney to pursue legal action against the school, according to various reports.
The Department of Education released a statement saying, "This behavior is deeply troubling and we are seeking to terminate this teacher's employment.  He has been removed from the classroom and reassigned away from students."
Couey has been at P.S. 194 since 1993 and, shockingly, this is not the first time he has been accused of assaulting children.  He has four letters reprimand on record — including one incident outlined in a 2013 New York Daily News article where he was accused of throwing a special needs student down a flight of stairs — however, none of he previous accusations could be substantiated due to a lack of video evidence.
WATCH:

[image via screengrab CBS2 News]
Have a tip we should know? [email protected]