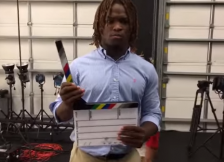 A Florida singer playing a police officer in a video will have to face the music after cops picked him up for impersonating a law enforcement official.
Michael Howard, 20, drove a white Ford Crown Victoria with red and blue flashing lights, seemingly pulling over the car in front of him early Thursday morning. Palm Beach police started following him, thinking his vehicle was an unmarked police car that needed backup, The NY Daily News reported. An officer approached Howard's vehicle, and realized the lights were not regulation. As it turns out, Howard bought them on eBay for $15. He purchased the car, a retired police cruiser, last year. The officer searched Howard's car, and found a shell casing on the front passenger seat and a .22-caliber pistol in the glove compartment.
Howard is charged with impersonating a police officer, unlawful use of blue lights, and possession of a weapon while committing a felony. "I didn't know the consequences would be this bad," he told South Florida's SunSentinal.
Howard is an aspiring R&B artist, and claimed the people in the car in front of him were his friends. He said they drove off after the real cops arrived. He did not offer an explanation for the weapon or shell casing. He said police were not interested in his side of the story, but did not mention the music video to the press until the following week.
[h/t and screengrab of music video via NY Daily News]
Have a tip we should know? [email protected]