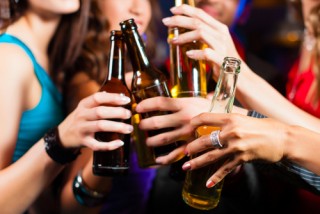 The College of Charleston on Monday was named the 15th best 'Party School' by the Princeton Review.  One day later, College of Charleston President Glenn McConnell made a surprising announcement to ban the use of alcohol at fraternity and sorority social events effective immediately.
In a lengthy statement published at The College Today, the online magazine of the College of Charleston, President McConnell announced the reasoning underlying his decision.
"Earlier today, the College, after consulting with student leaders within the Greek life community, suspended all alcohol-related social activities for its fraternities and sororities effective immediately," President McConnell said in his statement.
He then assured the campus community there was no single incident that led to this decision.
"This is not a knee-jerk reaction to an isolated incident, but rather a serious response to a series of dangerous behaviors connected to some members of our fraternities and sororities, ranging from disruptive parties out in the community this month to recent medical transports related to extreme intoxication," the statement reads.
He then struck a much more angry tone, appearing frustrated that earlier efforts to change the campus culture had failed.
"Enough is enough. This type of reckless and dangerous behavior will not be tolerated. While we have a robust and comprehensive education and disciplinary conduct process for drug and alcohol abuse, clearly the message is not getting through to all students."
For an example of some of the behavior that may have led to this decision, check out this "party video" titled "I'm Shmacked", which the blog Total Frat Move says was filmed at the College of Charleston.
WATCH:
President McConnell then concluded his statement by making sure to point out this was not simply a problem with the Greek System, saying:
"Let me be clear: It's not just our Greek students who have work to do. Our entire College community shares in the responsibility for cultivating the type of university we want to be."
President McConnell also left the door open to lifting the alcohol suspension, apparently on a chapter by chapter basis.  The Division of Student Affairs will conduct reviews of each fraternity and sorority chapter to ensure all members successfully complete an educational program on "substance abuse, associated high-risk behavior and bystander intervention."  Chapters may get alcohol privileges back following a successful report from the Division of Student Affairs.
The Post and Courier newspaper reports President McConnell has made no mention of the Princeton Review ranking in making his decision. The same report also notes the College of Charleston is simply the latest institution of higher learning in South Carolina to face problems with Greek Life alcohol policies.
Clemson University instituted stricter alcohol policies in 2015, a year after the school suspended all of its fraternities amid reports of sexual misconduct, alcohol abuse and the drowning death of a 19-year-old student and fraternity member.  The University of South Carolina in 2015 also suspended new member recruitment at all of its 13 fraternities, in part due to alcohol issues.
Have a tip we should know? [email protected]