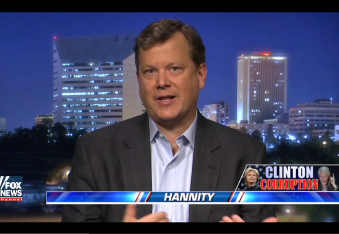 Peter Schweizer, author of the best-selling book turned documentary film Clinton Cash, says he "knows" the FBI is currently investigating the Clinton Foundation. Schweitzer made the claim on Monday night during an interview with Sean Hannity on Fox News.
Hannity brought Schweizer on to discuss his recent article published in the Wall Street Journal that looks at the potential negative consequences of technology transfer program between the United States and Russia.  The plan essentially called for the cooperation of major U.S. and European technology companies to help Russia create its own Silicon Valley.  The person in charge of getting U.S. companies involved in this program was then-Secretary of State Hillary Clinton, who reportedly made it a cornerstone of the "Russian Reset."
After the partnership was underway, the U.S. military and law enforcement agencies began to warn that the Russians were using the program for defense related purposes — which was outside the stated scope of the program.  The agencies also warned that this could be harmful to the United States' national security interests. Schweizer states that leaked Wikileaks cables even show the State Department had received warnings about Russia's apparent misuse of the technology, yet they apparently took no action.
Why not?
According to Schweizer, it turns out that 60% of the U.S. and European companies involved in the program had either given donations in the tens of millions of dollars to the Clinton Foundation or sponsored speeches given by Bill Clinton.  Several individuals involved in the effort on the Russian side were also reportedly contributors to the Clinton Foundation.  Schweizer argues that this raises serious questions.  At the very least, he argues it gives the appearance as though donations to the Clinton Foundation may have influenced then Secretary of State Clinton's decision making.
After discussing this issue, Hannity cut to the chase and asked, "And to what extent do you think now our law enforcement — because we never got an answer from Comey as to whether or not the Clinton Foundation is still being investigated. To what extent do you think all of this is being investigated?"
Schweizer replied,  "I can tell you, Sean — I can't go into detail. But I can tell you on personal experience that I know the FBI is investigating the Clinton Foundation."
"They're doing it now? They're doing it today? Have they questioned you, if you don't mind me asking?" Hannity asked, seeking to clarify Schweizer's response.
"I'd rather not talk about that, but they are doing it at present," Schweizer responded.
Hannity then said he would not press the issue further and the segment ended.
The Clinton campaign reportedly declined to comment on Schweizer's allegations.
Have a tip we should know? [email protected]