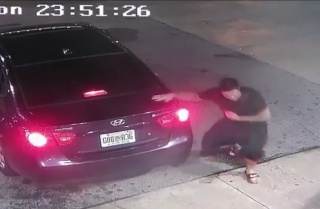 A man who had just been targeted by carjackers was at a gas station in North Miami, Florida, when he spotted and confronted the suspected culprits, WPLG reported. He was there with his brothers and was about to pump gas, when he recognized his own Ford Focus, which was taken from him earlier that same night. He chased the men as they got into another car, and threw a punch at one of them, before they responded with heavier force. Security footage shows the man going after them, before getting shot in the stomach and collapsing to the ground as the suspected carjackers speed away.
Paramedics arrived to treat the man, who is reportedly now in stable condition.
A gas station employee identified two suspects who were caught on surveillance video. They had entered the station's store where the employee was working before the shooting. Police have yet to apprehend the suspects. As many as five individuals may have been involved in the crime.
[Image via screengrab]
Have a tip we should know? [email protected]