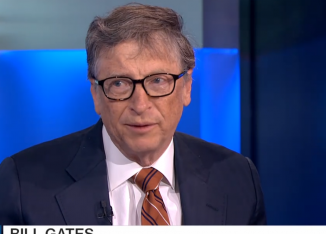 Microsoft founder Bill Gates disputes various reports circulating this morning that say he has backed the FBI over Apple in the fight to unlock the iPhone used by San Bernardino terrorist Syed Rizwan Farook.
In an interview with the Financial Times published on Tuesday morning, Gates was asked about the San Bernardino iPhone fight and he is quoted as saying, "This is a specific case where the government is asking for access to information.  They are not asking for some general thing, they are asking for a particular case."
From this quote, several news outlets, including NBC News, CNN, CBS News, ABC News, and Fox News have all ran some version of the headline: "Bill Gates Backs FBI Over Apple in iPhone Fight."
Well, Gates appeared on Bloomberg on Tuesday morning where, in response to a question about the headlines and reports, the Microsoft founder confirmed that he was blindsided by these reports and said,"Yeah, I was disappointed because that doesn't state my view on this."
Gates went on to explain his more nuanced view on the issue, telling Bloomberg that in certain circumstances, including terrorism cases, he believes proper safeguards can be put in place to protect an individual's privacy while also ensuring the government is not totally blind in its fight against the growing threat of terrorism.
WATCH the entire interview via Bloomberg:
[h/t Bloomberg]
Have a tip we should know? [email protected]