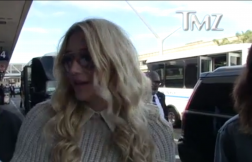 Music producer Dr. Luke took to Twitter on Monday, going on a lengthy address regarding the civil suit brought by recording artist Kesha that alleges he sexually abused her over the course of several years. The suit, which seeks an injunction to release Kesha from her contract as well as monetary damages, would allow her to continue her recording career without him.
Dr. Luke, whose real name is Lukasz Gottwald, began by stating that the matter "should be resolved in court not here on Twitter." He then posted an additional 20 tweets about it, saying he never had sex with the singer, claiming that people don't know the truth, and tweeting excerpts from articles saying that Kesha stated at a deposition in 2011 that Gottwald never touched her. Kesha claims that she lied under oath after Gottwald threatened her with violence, according to CNN.
I didn't rape Kesha and I have never had sex with her. Kesha and I were friends for many years and she was like my little sister.

— Dr. Luke Doctor Luke (@TheDoctorLuke) February 22, 2016
Gottwald then took the offensive, saying that he and Kesha had creative differences, the lawsuit was the result of contract negotiations, and that her supporters don't understand that Kesha is just after money.
They are getting behind an allegation only – motivated by money.

— Dr. Luke Doctor Luke (@TheDoctorLuke) February 22, 2016

After over half an hour of steady posts, he finally concluded by saying that he won't be commenting on the case much, since it's an ongoing matter that should be kept in the courtroom.
This is an ongoing legal case so I won't be responding / talking much about this. This should be tried in a court of law.

— Dr. Luke Doctor Luke (@TheDoctorLuke) February 22, 2016
[h/t CNN, Screengrab via TMZ]
Have a tip we should know? [email protected]