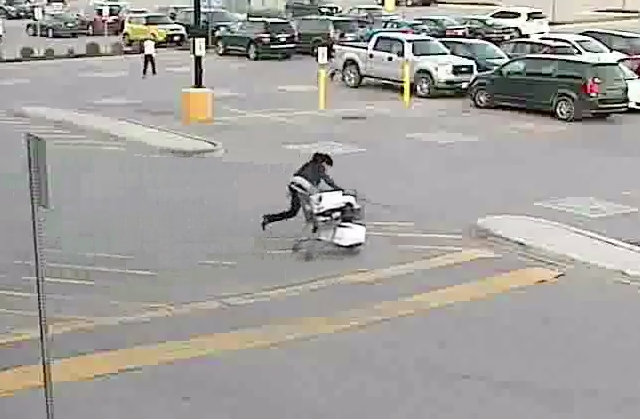 Authorities in a far-away land–Canada–seek an alleged shoplifter who botched her getaway on April 26. See the footage here.
Wellington Cty OPP-seeking female shoplifting suspect and accomplices. Fergus Wal-mart 26APR17. Call police.
[email protected] pic.twitter.com/RYfXBM2ZyC

— OPP West (@OPP_WR) May 12, 2017
Footage, provided by the Ontario Provincial Police, shows a woman hauling out of a Walmart in the town of Fergus. Shopping cart in tow, she is trailed by a store employee. She got's the distant lead. It seems like no one could possibly–and then she trips face first. The employee catches up, and the woman runs away, leaving the cart behind.
Cops said the cart held over $650 worth of shoplifted loot, CTV reports. According to police, store employees said the woman had stolen $2500 of products several days previous.
The suspect is reportedly described as white, possibly in her 40s, being about 165 pounds, wearing glasses, and having a tattoo on her back. Five accomplices are believed to be helping her, the outlet said. Two men in their thirties: one is short with dark hair; and the second was reportedly seen in a red and white baseball cap. And then there are three female suspects, all in their 20s: cops say one has long dark hair; the second has long blonde hair; and the third is "prone" to hiding her face.
[Screengrab via OPP]
Have a tip we should know? [email protected]