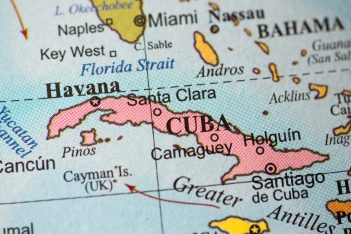 A new report on Thursday morning claims a company controlled by Donald Trump conducted business in Cuba back in 1998 in violation of a longstanding economic embargo imposed after Fidel Castro first came to power.
So, what is the Cuban economic embargo?
In 1962, President John F. Kennedy announced an embargo on trade between the United States and Cuba.  The decision was made in response to certain actions by the Cuban government, including the communist takeover led by dictator Fidel Castro.  The U.S. Department of Treasury and Department of Commerce were directed to implement the embargo and it has remained in place ever since — although in March 2016, the departments amended the regulations pursuant to a new directive from President Obama.
The embargo is enforced through six statutes:  Trade Sanctions and Export Enhancement Act of 2000; Cuban Liberty and Democratic Solidarity Act of 1996; Cuban Democracy Act of 1992; Sections 5 and 16 of the Trading With the Enemy Act; and Foreign Assistance Act of 1961 (22 U.S.C. 2370(a)(1)-(a)(2)).
Generally speaking, the embargo and relevant sanctions prohibited U.S. citizens from conducting any business transactions with Cuba, at least without first obtaining a special license.
Additional information about the Cuban embargo can be found on the State Department's website, HERE.
Have a tip we should know? [email protected]