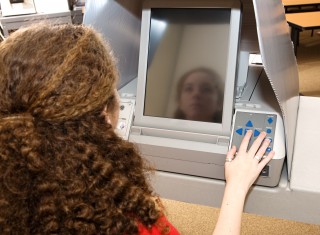 About a month ago, the FBI warned that election boards in Arizona and Illinois were hacked by foreign actors. Now, a CBS News report says it's much worse than that. Sources say that as many as 10 states have had their election databases attacked, as U.S. officials have been concerned about a number of breaches of systems related to either the election or political organizations. Earlier this year, the networks of the Democratic National Committee and the Clinton Foundation were hacked, and Russian operatives have been suspected for both.
Experts told CBS that the attacks on election systems may not be meant to change the outcome of November's Presidential contest, but could be geared towards casting suspicion over the U.S. electoral process. However, that doesn't mean that there isn't a danger of actual meddling.  One concern is that hackers could theoretically delete voter registrations, disenfranchising citizens and handing the election to a candidate. Alternatively, a cybersecurity professional said the voting software itself could potentially be hacked and changed to show results other than what the votes might determine.
In the meantime, states have between now and November 8 to ensure that their systems are protected.
Have a tip we should know? [email protected]