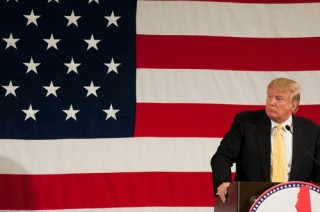 On Thursday, Donald Trump's presidential campaign took quite possibly its biggest hit yet with the revelation that in 1998, he violated the United States' decades-long trade embargo with Cuba. According to the report from Newsweek, Trump's hotel company paid a consulting firm over $68,000 which sent employees to Cuba on an exploratory mission with the goal of "giv[ing] Trump's company a foothold should Washington loosen or lift the trade restrictions." Months later, during his first presidential campaign, Trump promised to maintain the embargo and never spend a dime in Cuba.
Citing "interviews with former Trump executives, internal company records and court filings,"  the report states that with Trump's knowledge and backing, Seven Arrows Investment and Development Corporation conducted the exploratory mission and even explained how to use a charity to make it look like a legal trip.
"On February 8, 1999, months after the consultants traveled to the island," Kurt Eichenwald writes in the report, "Seven Arrows submitted a bill to Trump Hotels for the $68,551.88 it had 'incurred prior to and including a trip to Cuba on behalf of Trump Hotels & Casino Resorts Inc.'" According to one expert quoted in the story, going through an intermediary would have no impact on whether or not Trump broke the law if the story is true.
Not only does the U.S. Office of Foreign Assets Control (OFAC) have no record of authorizing such a trip, but leaked documents from the Trump Organization revealed that "executives involved in the Cuba project were still discussing the need for federal approval after the trip had taken place." An anonymous OFAC official told Newsweek that the likelihood of a license for a business trip Cuba "on behalf of an American casino" was "essentially zero."
Because  the statute of limitations on these violations ran out years ago, there's no chance of any prosecution over the trip.
[Photo: Shutterstock]
Have a tip we should know? [email protected]