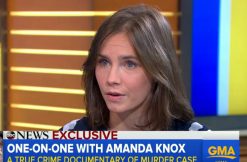 The Amanda Knox case was a roller coaster. The Seattle-native was tried twice by an Italian court over the 2007 killing of roommate Meredith Kercher. A 2009 conviction for murder and sexual assault led to a successful appeal in 2011. Then a second trial ended with another guilty verdict, which Italy's highest court threw out in 2015 because investigators made too many mistakes. Ex-boyfriend Raffaele Sollecito was also acquitted while another man, Rudy Guede, was convicted for Kercher's murder. Knox is now a free woman.
Now she's spoken with Good Morning America about a new Netflix documentary that examines the story. Amanda Knox premieres at midnight, first thing on Friday. The film is geared towards picking apart the claim that she did it. This includes an allegation by prosecutor Giuliano Mignini that one of Kercher's killers must have been a woman because Kercher was found with a blanket on her body.
"I think I'm trying to explain what it feels like to be wrongfully convicted," Knox, 29, told GMA's Robin Roberts on Thursday. She said that by participating in the documentary, she's trying to draw a spotlight onto the plight of exonerated defendants.
Kercher's family didn't participate in the documentary.
"That's the really sad part about this tragedy is that as soon as the prosecutor made it about 'Amanda, it has to be Amanda,' they took away the fact that this case is about her and what the truth was about what happened to her," Knox said. "She's been lost in all of that but that doesn't change the fact that we have also an obligation to everyone that could potentially be innocent to find out the truth for the sake of the victim and the sake of them as well."
[screengrab via ABC]
–
Follow Alberto Luperon on Twitter (@Alberto Luperon)
Have a tip we should know? [email protected]